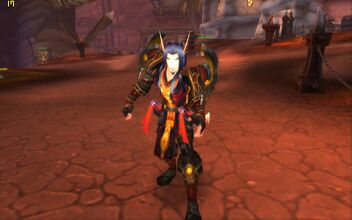 Vandril is a blood elf rouge in the WoWfc story. He is known for his strong-will to survive as well as his skill with weapons. Vandril is also known for having shown a strong leadership in season 3, as well as having many radical tactics on overcoming obstacles. wowfcmmochampion.com voted vandril 3rd in most unique character.
When Vandril was created, figo described how he didn't want another Kelsisco. "I already had the harsh and doubtful rouge kelsisco. There's no point in killing him off the series and adding a 2.0 version of him. Vandril is intended to be a strong backbone of the Blood Ocean, and is more of a 5.0.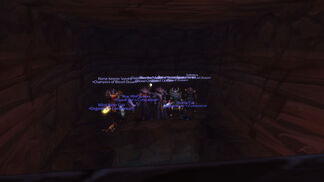 Vandril joins in on Part 3, not much info is known of him other than his skill in poisons and knowledge of the world. His stealth and cunningness is shown in the episode "forlorn or scattered" in which Vandril takes down three Elite Forborn guards. Throughout the series, Vandril helps commence raids against deathwing and attempts to solo the dragon in which he reluctantly failed and was slighty burned from the immense fires. With the rest of the guild, Vandril assists Blood Ocean in taking out the dragon, and after decides to continue on his own. The rouge spend s the rest of his days gaining more knowledge of the vast and everchanging world.
Friends and Feuds
Edit
Dagamier and Squash - The two had many adventures with Vandril and spent some time working as a group of three. However most particularly, Squashuux and Vandril had a rather "intentional rivalry" on each other. In the episode "how it seems to be so" Squashuux shows a sudden distrusts for Vandril's ideas. The two had a couple of duels both deadly and semi-friendly. In the episode "a distrust for us" Squashuux is destroyed by Vandril's sleek stealth and reluctantly accepts Squash's rematch only to leave the mage on the floor twice more.